Every future homeowner who is planning to build a new house needs to make several important decisions. One of those decisions is the size of the house.
Nowadays, the tendency inclines towards bigger square footage which can become a big financial trap at the construction stage and years after. However, the small house has way more advantages over the well-liked big houses.
When building a smaller residence, you will expect the following pleasant surprises:
1. Less construction time and cost.
According to the 2014 Survey of Construction (SOC), it takes seven months be build the average singe-family house (from authorization to the issuance of the Certificate of Occupancy). The average size of a typical Texas home is 2000 sq.ft. Texas average construction price per sq.ft. is $125. Therefore, extra 100 sq.ft. of our new house will take about 10 days and will cost $12,500. Does it worth to plan a house smarter?
2. Opportunity to buy high quality construction materials and appliances.
The majority of people who are planning to build a house don't realize that every extra 50 sq.ft. of new house cost about $6,000 or more. In reality, it's almost impossible to feel the difference between living in a house of 2,000 sq.ft or 2050 sq.ft. Those extra $6,000 can be used to purchase, for example, higher quality appliances which will make a HUGE difference in interior look, house atmosphere, many years of convenience and joy of usage the high quality.
3. Smaller taxes
It is not a secret that the tax amount is based on the square footage of a property. The bigger it is, the more dollars you need to get out of your pocket.
4. Higher resale value per sq.ft
As a matter of fact, the smaller house in the neighborhood is usually sold faster and for a higher price. Don't believe it? – Check Zillow.com
5. Less utility cost
Our electrical bill usually depends on the amount of time we run the A/C. In Texas it is a big thing to keep the house nice and cool during the extremely hot summers with 95+ F. On average, it it takes about 20 minutes to get the 400 sq.ft living room one degree cooler. Imagine what it would take to cool 500 sq.ft living room down? An hour? Or, maybe even longer? Someone would say that A/C Zoning will help. – Yes, it will, but not significantly.
6. Higher "Coziness"
According to The Engineering ToolBox estimate, 100-400 square feet of a home space is enough for an average person to feel comfortable. The bigger the living area (living room, bedroom or even bathroom), the more stress a person experiences. The Wall Street Journal publication surprised the public with the information about how few sq.ft. of space we actually use during the day.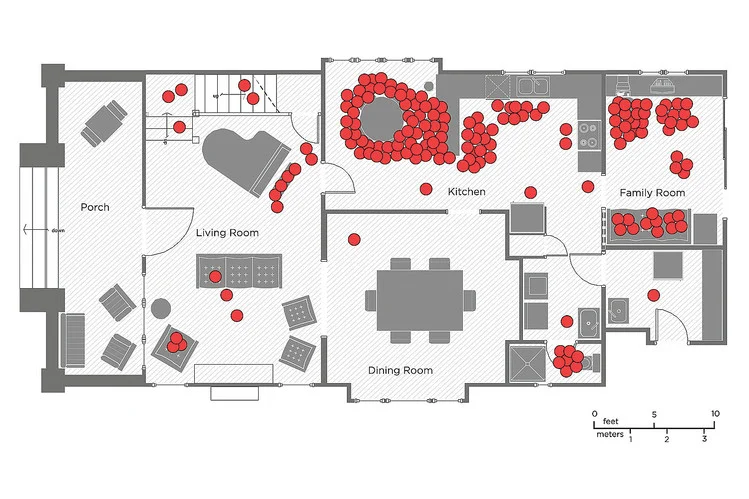 Advice of the day: It is always good to plan better and look forward.
Don't buy more furniture and gadgets to reduce the useful house space and feel less stressed, but plan square footage smarter and live happier!
#buildingtips #newconstructionhoustonbayarea #houstonbayarea #customhomeshouston